Fulton J. Sheen left The Catholic University of America more than 60 years ago, but his influence is still felt. A portrait of Archbishop Sheen hangs in the School of Philosophy, where he taught. His books are regularly checked out of the library. Some students, faculty, and staff still listen to his radio talks and watch episodes of his TV program "Life is Worth Living." In many ways, Archbishop Sheen continues to be an inspiration, role model, and a point of pride for the Catholic University community.
Bishop Barron Sees Sheen as 'Pivotal Player'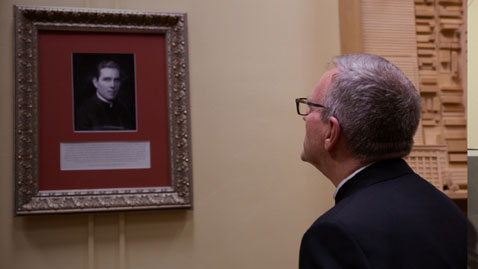 In the summer of 2018, Catholic University Alumnus Bishop Robert Barron was on campus to film part of his "Pivotal Players" episodes about Sheen in the Sheen classroom of McMahon Hall.
In the "behind the scenes" video, Barron discusses how the intellectual rigor Sheen showed throughout his life was tied to his studies and teaching at Catholic University.
Archivist's Nook Blog Remembers a 1952 Emmy Winner
Catholic University Archivist Maria Mazzenga posted a blog entry with a personal twist about Archbishop Fulton J. Sheen. In the article dated July 14, 2016, Mazzenga recalled coming across information about Sheen while she was studying American Catholic culture as a graduate student at the University in the 1990s. She decided to ask her mother if she'd ever heard of Sheen while she was growing up in the 1950s. Her mother's enthusiastic and emotional response gave the young researcher a new appreciation of the tremendous impact Sheen had on the lives of Catholics in America during that period.
Panelists Discuss Sheen's Legacy in Catholic Media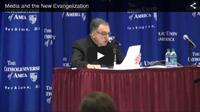 Several leaders in the field of Catholic broadcasting gathered at The Catholic University of America on April 6, 2015, for a discussion about the role of media in the new evangelization. The conversation was part of a week of University events honoring the Venerable Fulton J. Sheen, who spent his life communicating the faith through radio broadcasts, a prolific writing career, and his acclaimed primetime television show, Life is Worth Living.
Two Professors Lead Discussion of Sheen's Economic Views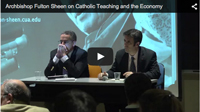 More than 100 people attended a video screening and discussion titled "Archbishop Fulton Sheen on Catholic Teaching and the Economy" on March 3, 2015, in Aquinas Hall Auditorium. Andrew Abela, dean of the School of Business and Economics, and Joseph Capizzi, associate professor in the School of Theology and Religious Studies, offered a 21st-century perspective on a talk Sheen gave in the early 1950s.
The event was sponsored by the CUA Fulton Sheen Legacy Committee.
Student Organization Distributes Sheen Prayer Cards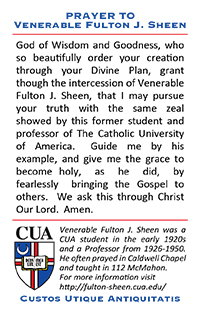 Custos Utique Antiquitatis, a student organization whose mission is to preserve, promote, and protect the traditions and history of the Catholic University of America, distributed prayer cards at the University's annual Mass of the Holy Spirit on Aug. 28, 2014.
The cards feature a photo of then Monsignor Sheen taken in the 1940s when he taught at Catholic University. The student's prayer on the back asks God through the intercession of Venerable Fulton J. Sheen, "that I may pursue your truth with the same zeal showed by this former student and professor." The prayer also asks God, "Guide me by his example, and give me the grace to become holy as he did, by fearlessly bringing the Gospel to others."
Library Unveils New Archbishop Fulton J. Sheen Research Guide
The Religious Studies and Humanities Services Department of the University Libraries has created an extensive guide to a wide range of resources related to Archbishop Fulton J. Sheen. The Sheen research guide highlights resources that are available through the library. It includes materials that show Sheen's impact on the American Catholic Church, and the Catholic Intellectual Tradition. It also includes links to many freely available online resources, including an extensive video library of Life is Worth Living.
The guide was developed by Samuel Russell, graduate library pre-professional in religious studies and humanities services, and Dustin Booher, religious studies librarian.

Admissions Office Honors Venerable Fulton Sheen with Photo Display
The Office of Admissions regularly hosts prospective Catholic University students and their families in Room 112 McMahon Hall. When they recently learned that Fulton Sheen taught many of his classes in that room, they decided to honor his memory by hanging his photo on the wall. The photo shows Sheen, not as the silver-haired TV star of the 1950s, but as the youthful priest-professor of the 1920s and '30s.
The text accompanying the photo begins, "The Catholic University of America is proud to claim Venerable Fulton J. Sheen as both a former student and professor." It ends with a simple prayer: "Venerable Fulton Sheen, pray for us!"
University's Alumni Magazine Features Sheen's Cause for Sainthood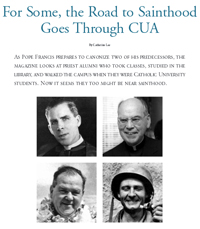 The Catholic University of America Magazine features an article about four priest alumni who are actively being considered for sainthood.
The article focuses on the canonization causes of Archbishop Sheen, Cardinal Terence Cooke, Rev. Theodore Foley, and Rev. Emil Kapaun.
Sister Maria Frassati Jakupcak, O.P., co-chair of a University committee that is planning several spring 2015 events to commemorate Archbishop Sheen, is quoted in the article saying she hopes that Catholic University students "will find in him both a role model and a friend." A religious in residence at Regan Hall and a teaching fellow pursuing her doctorate in English, she notes that Archbishop Sheen's cause "is a reflection of Catholic University's unique place in the history of American Catholicism. This is an institution that produces saints."
'Life Is Worth Living' Printed on 2014 March for Life T-Shirts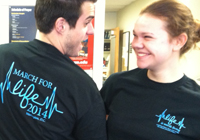 Catholic University students who participated in the 2014 March for Life wore T-shirts printed with one of Archbishop Sheen's most famous quotes, "Life Is Worth Living." It was the title he chose for his 1950s TV show and a message that the CUA students found relevant in 2014.
"Archbishop Sheen's quote, 'Life is Worth Living,' was the perfect slogan/design for this year's CUA March for Life T-shirt," said Brother Jim Moore, OFM Conv., associate campus minister for justice and missions.
Moore also pointed out a connection with Archbishop Sheen's work in support of Catholic missions during his years as director of the Society for the Propagation of the Faith.
"Donations collected for the shirts will support the mission sites for this year's Campus Ministry international mission trips to Jamaica, Costa Rica and Belize." Moore said. "It's great to see our students excited in promoting the gift of life, and even more exciting seeing them share their gifts of life and energy with our sisters and brothers abroad. We are so proud of them and I know Archbishop Sheen would be proud of them too."
'Sheen on Suffering' Is Theme of Film and Lecture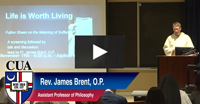 The Modern Catholic Authors student organization hosted an event in the fall of 2013 that combined a "Life Is Worth Living" episode and a lecture by a current philosophy professor. More than 50 students turned out for the Tuesday evening event. First they watched Bishop Sheen's presentation on the meaning of suffering. Then they listened to a talk by Rev. James Brent, O.P., assistant professor of philosophy, followed by a question-answer session.
Eddie Lazzari, a seminarian at Theological College and co-founder of the Modern Catholic Authors group, said that Archbishop Sheen helped him to grow in his faith. As a high school student, Lazzari used to listen to episodes of "Life Is Worth Living." Like Archbishop Sheen, he tries to pray for an hour daily. Lazzari notes that the prelate is "a constant reminder of why I'm here — to give myself completely to God and the people of God. He was very clear about that. It is through giving our lives, that we are fulfilled."
Student Group Sponsors Screening of Sheen Film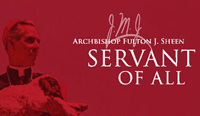 Esto Vir, a CUA Catholic men's organization, presented the film "Archbishop Fulton J. Sheen: Servant of All," an hour-long documentary on the life of Venerable Fulton J. Sheen. Following the film Dr. Thomas Cleary, cousin of Archbishop Sheen, offered reflections from his personal experience and answered questions from the audience.
President Garvey Writes about 'Venerable' Fulton Sheen
In 2012, two weeks after the Congregation for Saints' Causes recognized the life of Archbishop Fulton J. Sheen as one of heroic virtue and granted him the title "venerable," CUA President John Garvey wrote a column about him that was published in Catholic newspapers across the country. Garvey called Archbishop Sheen "a prophet" who appealed "to people who think their lives have a meaning, that life's questions have true and false answers."
Students Read Sheen Book to Prepare for World Youth Day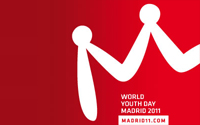 Catholic University students who traveled to Madrid, Spain, for World Youth Day 2011 prepared for their pilgrimage by studying "Life of Christ" by Archbishop Fulton Sheen. The book was used as a guide for meditation while abroad.