March 27, 2014
Archbishop Fulton J. Sheen, named Venerable in 2012 by Pope Benedict XVI, is remembered today for many reasons: his Emmy Award-winning TV show, which aired from 1952 to 1957; his knack for evangelization and dynamic preaching; and his prolific writing, totaling 66 books over the course of 54 years.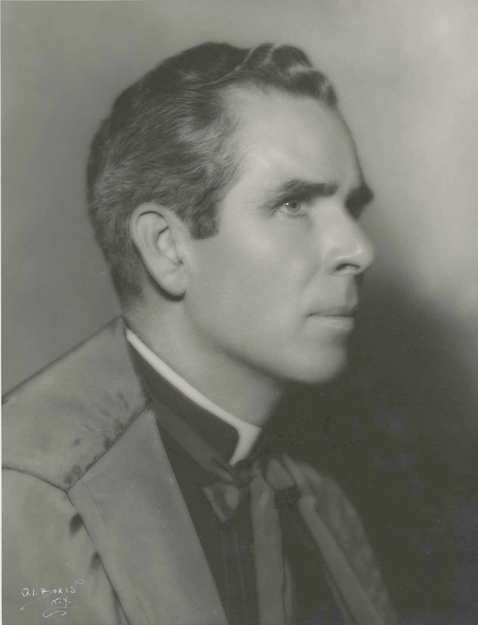 But before he developed a worldwide reputation for evangelization, Archbishop Sheen was a professor who spent 23 years teaching philosophy at The Catholic University of America. From 1926 to 1950, Archbishop Sheen walked campus grounds, advised students, graded papers, and prayed daily in Caldwell Chapel.
Rev. William Amann, a retired priest for the Diocese of Rochester, studied at Catholic University from 1947 to 1950, earning his bachelor's and master's degrees in philosophy as part of the Basselin Scholars Program, a three year honors program for seminarians. During that time, Father Amann studied under then-Monsignor Sheen, who was his mentor. At the time, Sheen was teaching a class in natural theology on the first floor of McMahon Hall.
"He was a very holy man and it came out certainly in the presentation of his class," Father Amann said. "His holiness was evident in his demeanor and the classes he gave, his belief in God, and his trust in the Lord."
By 1950, Monsignor Sheen had already received national recognition for his work as a radio personality on The Catholic Hour. As a result, his class was always crowded with students coming to hear him speak.
"Many people brought in books to sign and he would write very flowery messages," said Father Amann. He received two signed books from Sheen, including one for his brother who wanted to be a priest, but was too sick to enter the seminary. That note reads, "To Clarence A. Amann, whose lay priesthood can whisper so meaningfully the words of consecration, 'This is my body.' God love you, Fulton J. Sheen."
Father Amann remembers Monsignor Sheen as an intelligent and challenging professor who would arrive to class each day with a stack of books, referencing them often. When Father Amann submitted his thesis to him, the professor originally rejected a whole chapter as "too moralizing."
Father Amann quickly rewrote the chapter before presenting his thesis to four professors. After the oral examination, he was told he passed "with distinction" - an accomplishment he attributes to Sheen.
Another of Sheen's former students is John Landrum of Arvada, Colo. Landrum participated in the Basselin Scholars Program at the same time as Father Amann and earned his bachelor's and master's degrees in philosophy. Landrum remembers Monsignor Sheen as his favorite professor at Catholic University.
"He was my dissertation adviser," Landrum said. "His classes were just wonderful and he was so deliberate about everything that he talked about, very frank."
Landrum was a seminarian during his time at Catholic University, but he later married and had six daughters. His wife, Ida May Landrum, remembers him speaking fondly about his time as Sheen's student. Once, the future archbishop gave Landrum a thesaurus to improve his thesis paper.
"He used that thesaurus for years and years and insisted his daughters would use it," Ida May said. "The girls all used it and turned in excellent papers and his copy was in rags because they used it so much."
Deacon Francis McQuade of Maplewood, N.J., also studied at Catholic University, eventually earning his doctorate in philosophy in 1950. Monsignor Sheen was his dissertation adviser. In recent years, Deacon McQuade became very involved in the canonization cause for Archbishop Sheen.
In a 2008 article in the Peoria Connection newspaper, Deacon McQuade called Archbishop Sheen "a marvelous teacher" with a talent for nurturing his students and a wonderful sense of humor. He remembered that then-Monsignor Sheen never wrote on a chalkboard without first writing "JMJ" to consecrate his work to Jesus, Mary, and Joseph. At the end of every school year, he would tear up his notes to keep his classes fresh.
Deacon McQuade was also interviewed for the Positio super Virtutibus, a series of documents that were presented to the Vatican's Congregation for the Causes of Saints on Archbishop Sheen's behalf. In the documents, McQuade said Monsignor Sheen was very popular, with auditing students often sitting on the radiators in his classroom to hear him talk.
"All I know is that it was hard to get into his courses," Deacon McQuade said. "The only thing that kept you out is they couldn't get any more people in the room."
Though he had many students, Monsignor Sheen was a highly accessible and patient professor, Deacon McQuade said.
"He was awesome as a teacher. He spoke in a way you could understand what he was talking about. He could make very difficult topics very understandable without detracting from their depth. He sort of brought you up to it; he didn't water it down."
According to Deacon McQuade, Monsignor Sheen set a positive example for his students not just in what he taught, but in how he lived.
"He was a dignified man, but he wasn't proud," Deacon McQuade said. "And yet he was one of the most charitable men I've ever met."