Born Peter John Sheen on May 8, 1895, to farmer Newt Sheen and his wife, Delia, in El Paso, Illinois, the future Archbishop Fulton J. Sheen came under the influence of one of the founders of The Catholic University of America at an early age.
While serving Mass as an 8-year-old altar boy for Bishop John L. Spalding of Peoria, Sheen dropped a wine cruet on the floor and it shattered. After the Mass, Bishop Spalding spoke to the frightened boy and made two bold predictions about him. First, the bishop said he would one day study at Louvain in Belgium; second, he told the young Sheen, "someday you will be just as I am."
Sheen went to high school at Spalding Institute, then studied at St. Viator College in Illinois and attended Saint Paul Seminary in Minnesota before his ordination to the priesthood on September 20, 1919.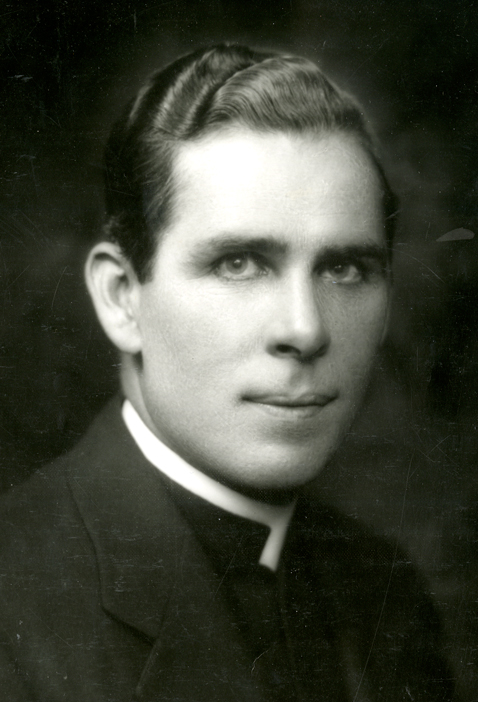 In 1920, he came to The Catholic University of America to continue his studies. He stayed only a year before leaving to pursue advanced study in philosophy at the Catholic University of Louvain, Belgium. Five years later, he returned to The Catholic University of America to teach.
For the next 23 years, Catholic University was where Father Sheen honed his skills as a scholar, educator, orator and evangelist. He worked, first in the School of Theology and Religious Studies, then in the School of Philosophy, teaching courses that touched on both of those disciplines, including "Philosophy of Religion," "God and Society," and "God and Modern Philosophy." Students - and untold numbers of visitors - crowded into Room 112 McMahon Hall to hear his lectures.
Father Sheen's talents as a preacher did not go unnoticed even in his early years. In January of 1927, at age 30 and still in his first year of teaching at Catholic University, he was selected to preach at the annual University Mass on the patronal feast of St. Thomas Aquinas. A decade later, it was Monsignor Sheen, not a high-ranking administrator, who was the principal speaker at the University's Sesquicentennial Celebration. (He had been made a monsignor by Pope Pius XI in 1934 at the age of 39.)
Steadily the reputation of the youngCatholic University professor grew, first on campus, then in wider circles as his brilliant oratory attracted more attention from the media. Father Sheen's first experience in broadcasting was in 1926 when he was invited to record a series of Sunday evening Lenten sermons on a New York radio station. Four years later, the young priest was asked to be a summer fill-in for two weeks on The Catholic Hour radio program. The audience response was so positive that he was asked to continue as a weekly speaker on the show.
From 1930 to 1950, Father (then Monsignor) Sheen's weekly talks on The Catholic Hour presented Catholic teaching in a way that had never been done before. Drawing from the deep well of his faith and scholarship, Professor Sheen addressed topics ranging from devotion to the Blessed Mother to the dangers of Communism. Rooted in his thorough knowledge of the philosophical thought of St. Thomas Aquinas, he preached the Gospel and showed how it applies to personal moral decisions and the great social issues of the time.
In response to his radio broadcasts, Monsignor Sheen received a steady stream of letters. In 1937, he wrote in a letter to University Rector Monsignor Joseph Corrigan, "During the past year letters demanding personal attention have run between 75 and 100 a day. ... This coupled with classes never given with less than six hours preparation for each lecture has left me physically exhausted. However the good to be done is such that one dare not shrink from its opportunities for apostolate."
Many of those letters were invitations to speak. Monsignor Sheen traveled all over the country giving academic lectures, missions, retreats, guest homilies, commencement addresses, and speaking at meetings of various Catholic organizations.
The busy professor not only kept up his full teaching schedule but also wrote numerous books. He published 34 books during his 23-year teaching career at Catholic University (and another 32 after he left the University). In addition, transcripts of his weekly radio talks were published in dozens of booklets by the show's sponsor the National Council of Catholic Men. Many of his other talks and sermons were published as pamphlets. He also was a syndicated columnist in the secular press.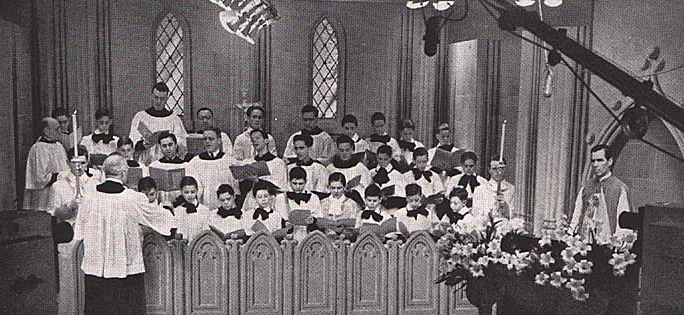 Monsignor Sheen stands at the podium while the Paulist Choristers, directed by Father WIlliam J. Finn, sing during an Easter Sunday television broadcast in 1940.
On Easter Sunday, March 24, 1940, Monsignor Sheen appeared on the world's first broadcast of a Catholic religious service. He spoke on "The Spiritual Symbolism of Television." The program was broadcast by W2XBS, the experimentally licensed predecessor of present-day WNBC in New York. It was sponsored by the National Council of Catholic Men in celebration of their twentieth anniversary as an organization and the tenth anniversary of their sponsorship of "The Catholic Hour" radio broadcast.
By the time Monsignor Sheen left Catholic University in 1950 to become the national director of the Society for the Propagation of the Faith, he was already one of the most well known Catholics of his time. The next chapter of his mission would catapult him to unprecedented fame and influence.
He was consecrated a bishop on June 11, 1951. In the Fall of that year, he began his famous television series, Life is Worth Living. It was a tremendous success, eventually reaching an estimated 30 million viewers each week, which would make it the most widely-viewed religious series in the history of television. He won an Emmy Award for Most Outstanding Television Personality, was featured on the cover of Time Magazine, and became one of the most influential Catholics of the 20th century.
Bishop Sheen is credited with raising many millions of dollars to support Catholic missions through the Society for the Propagation of the Faith. For 16 years, he led this effort for 129 dioceses throughout the United States and influenced the lives of tens of millions of people all over the world. He also was known to have led numerous people to convert to Catholicism, from working-class New Yorkers he encountered in his daily life to celebrities who sought him out for instruction. Among those whose conversions he influenced are agnostic writer Heywood Broun, politician Clare Boothe Luce, automaker Henry Ford II, Communist writer Louis F. Budenz, theatrical designer Jo Mielziner, violinist and composer Fritz Kreisler, and actress Virginia Mayo.
Between 1962 and 1965, Bishop Sheen attended all the sessions of the Second Vatican Council. He worked closely with then Father Joseph Ratzinger, who was a theological expert on the commission for mission, and who later became Pope Benedict XVI. In a 2012 interview with Vatican Radio, the Pope recalled how "Fulton Sheen ... would fascinate us in the evenings with his talks."
In 1966, Sheen was named Bishop of the Diocese of Rochester. He resigned from that position in 1969. In his resignation letter, Bishop Sheen wrote, "I am not retiring, only retreading." Pope Paul VI named him Archbishop of the Titular See of Newport, Wales. Archbishop Sheen remained active, spending the last years of his life chiefly in writing and preaching.
A consistent theme in Archbishop Sheen's preaching throughout his life, especially in his later years, was the benefits of making a holy hour in front of the Blessed Sacrament. Author Michael Dubruiel said, "There is no one in the modern church who has done more to popularize the practice of praying in the presence of Our Lord in the Blessed Sacrament."
This was not advice that Archbishop Sheen gave without practicing it himself. Throughout his years at Catholic University, he maintained his daily holy hour, praying in Caldwell Chapel and in the private chapel in his residence. Many people who worked closely with him over the years attest that he never failed to keep his holy hour from the day of his priestly ordination until his death on the floor of his private chapel in Our Lord's presence on Dec. 9, 1979.
Two months before Archbishop Sheen's death, Pope John Paul II embraced him in St. Patrick's Cathedral in New York. In that encounter on October 2, 1979, the Holy Father said to him, "You have written and spoken well of the Lord Jesus. You are a loyal son of the Church!" 
In 2002, Archbishop Sheen's Cause for Canonization as a saint was officially opened under the leadership of the Diocese of Peoria, and from then on he was referred to as a "Servant of God".
On June 28, 2012, Pope Benedict XVI announced that the Congregation for the Causes of Saints had recognized Archbishop Sheen's life as one of "heroic virtue," and proclaimed him "Venerable Servant of God Fulton J. Sheen."
On March 6, 2014, the board of medical experts who advise the Congregation for the Causes of the Saints unanimously approved a reported miracle attributed to his intercession. On June 17, 2014, the seven-member theological commission that advises the congregation unanimously agreed with the medical team's finding.
On Nov. 18, 2019, Pope Francis called for Sheen to be beatified on Dec. 21, 2019. However, on Dec. 3, 2019, Peoria Bishop Daniel Jenky announced that the Vatican had decided to indefinitely postpone the beatification ceremony. That decision was in response to a request submitted to the Vatican by some U.S. bishops for further investigation of Sheen's tenure as bishop of the Diocese of Rochester from 1966 to 1969.