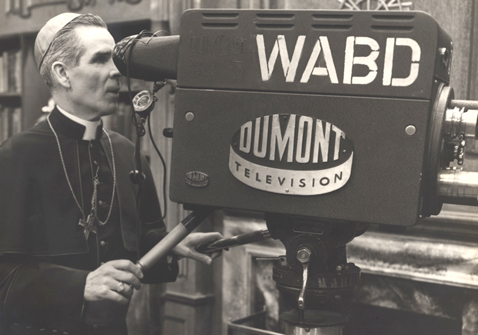 In 1926, Father Fulton J. Sheen spoke on the radio for the first time, giving a series of Sunday evening Lenten sermons on a New York station. Four years later, he made his first appearance on "The Catholic Hour" broadcast by NBC.
Sheen made history on Easter Sunday, March 24, 1940, when he appeared in the world's first Catholic TV program, "The Spiritual Symbolism of Television." The program was sponsored by the National Council of Catholic Men in celebration of their twentieth anniversary as an organization and the tenth anniversary of their sponsorship of "The Catholic Hour" radio broadcast.
In 1952, Sheen began his remarkably successful run as a TV personality with the debut of "Life Is Worth Living," a weekly program consisting of lectures on topics that blended theology, philosophy, and politics.
Maria Mazzenga, Catholic University's education archivist, says that his popularity as a speaker and radio personality was pivotal in bringing Catholics into "the national dialogue" on religious and political topics of the day. "Catholics had pretty much been excluded at the national level," says Mazzenga. Fusing Catholic and American ideals in a fatherly way, "he instilled in them a sense of confidence that enabled their inclusion into American society."
Sister Maria Frassati Jakupcak, O.P., co-chair of CUA's Fulton Sheen Legacy Committee, says she hopes Catholic University students "will find in him both a role model and a friend." A religious in residence at Regan Hall and a teaching fellow in the Department of English, Sister Maria Frassati notes that long before Pope Francis started tweeting, Archbishop Sheen was a "pioneer of the new evangelization," using the media of radio and TV to spread the word of God.
The Jesuit magazine "America" once called him "the greatest evangelizer in the history of the Catholic Church of the United States."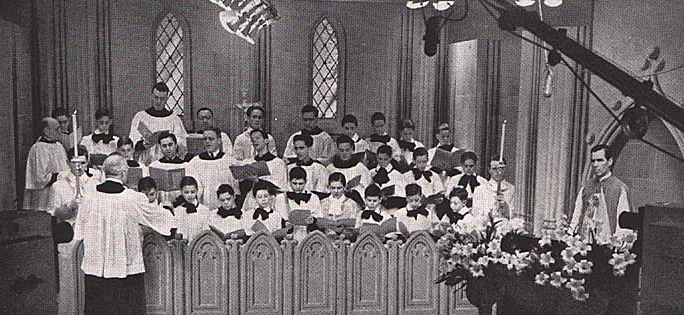 Monsignor Sheen stands at the podium while the Paulist Choristers, directed by Father WIlliam J. Finn, sing during an Easter Sunday television show in 1940. Aired by W2XBS (now WNBC) in New York, it was the world's first broadcast of a Catholic religious service.

'Life Is Worth Living'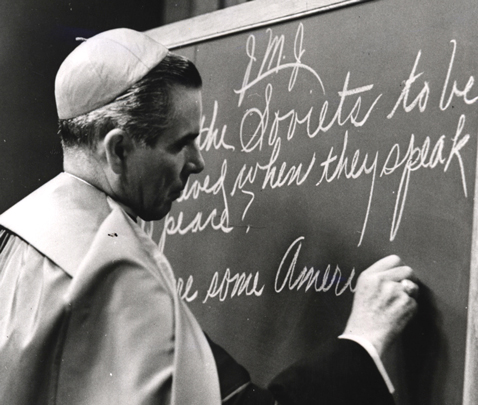 While he was still teaching at Catholic University, before his successful television career began, Monsignor Sheen had achieved extraordinary fame as an orator, author, and radio personality. But it was his TV show "Life is Worth Living" that made him a household name across America. The series ran on the DuMont Television Network from February 12, 1952 to April 26, 1955, then on ABC until 1957. Similar series followed in 1958-1961 and 1961-1968.
The format of the series was reminiscent of his classroom lectures in Room 112 McMahon Hall at CUA - a lecture on religious, moral, political, or philosophical issues using blackboard notes. Bishop Sheen won the Emmy Award for Most Outstanding Television Personality for his work in the 1952 season. "Life Is Worth Living" was aired on 169 local stations across the country, and is believed to have been the most widely-viewed religious series in the history of television. His show drew as many as 10 million viewers each week.
The video links below are a small sample of the hundreds of Bishop Sheen's videos available online. For a more extensive selection, visit the Bishop Sheen Today website.
DVD and video recordings of Sheen's "Life Is Worth Living" TV series are available for purchase at BishopSheen.com. 
Salt and Light Video about Archbishop Sheen
Father Thomas Rosica, chief executive officer of Salt and Light Catholic Media Foundation, narrates this video about the life of Venerable Fulton J. Sheen and his cause for sainthood. An article on the Salt and Light website notes that "Sheen is not only a regular fixture on the S+L broadcast schedule, but an inspiration to our entire team as well. Archbishop Sheen was ahead of his time when he took to the airways to teach the faith in a way that viewers of his day could connect to."
Bishop Fulton Sheen didn't wear a watch. But he came out at 22:30 every single time out. How he did it I never knew. I finally went to him and said, 'Your Excellency, how can you do this? Do you have a clock in your head?' He said, 'When you've been teaching in Catholic universities as long as I have, you know exactly how long to talk.' " - Ted Bergmann, executive, DuMont Television Network