Trailer for the Catholicism Pivotal Players Film on Fulton J. Sheen
---
'God Is My Light: Fulton Sheen at CUA'
---
Media and the New Evangelization
Several leaders in the field of Catholic broadcasting gathered at The Catholic University of America on April 13, 2015 for a discussion about the role of media in the new evangelization. The conversation was part of a week of University events honoring the Venerable Fulton J. Sheen, who spent his life communicating the faith through radio broadcasts, a prolific writing career, and his acclaimed primetime television show, Life is Worth Living.
---
'Servant of All: Archbishop Fulton J. Sheen'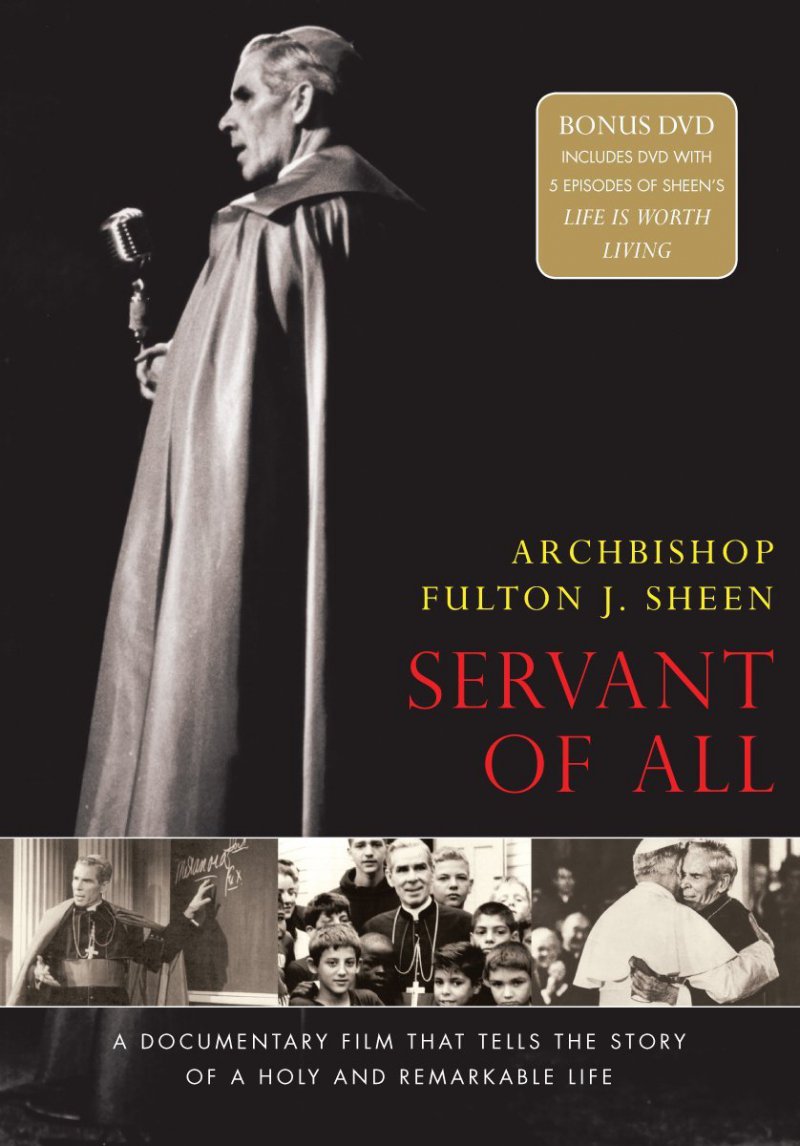 Released in 2011, this powerful film introduces the beloved Archbishop to a new generation.
Both biographical and inspirational, "Servant of All" presents Sheen's Midwestern family roots, his rise to fame as a radio and television personality, his generosity to the poor, and his deep personal spirituality.
The film shows how Sheen's influence lives on in those whose lives he forever changed. Guests interviewed for this film include Father Andrew Apostoli, Cardinal Timothy Dolan, Regis Philbin, Father Jonathan Morris, biographers of Sheen, his surviving relatives, friends, and many others who were influenced by him.
---
Salt and Light Video about Archbishop Sheen
 Father Thomas Rosica, chief executive officer of Salt and Light Catholic Media Foundation, narrates this video about the life of Venerable Fulton J. Sheen and his cause for sainthood. An article on the Salt and Light website notes that "Sheen is not only a regular fixture on the S+L broadcast schedule, but an inspiration to our entire team as well. Archbishop Sheen was ahead of his time when he took to the airways to teach the faith in a way that viewers of his day could connect to."
---
EWTN Interview with Author of Book about Sheen's Spiritual Legacy
Father Charles Connor, a noted Church historian, published a book in 2009 titled The Spiritual Legacy of Archbishop Fulton J. Sheen. He also hosted an EWTN series by the same title. In this interview, he says, "Fulton Sheen is not frozen in time," and that there is "a tremendous resurgence today" in Sheen's spiritual message.
---
Father James Brent, O.P. on Sheen's View of Suffering
The Modern Catholic Authors student organization hosted an event in the fall of 2013 that combined a "Life Is Worth Living" episode and a lecture by a current philosophy professor. More than 50 students turned out for the Tuesday evening event. First they watched Bishop Sheen's presentation on the meaning of suffering. Then they listened to a talk by Rev. James Brent, O.P., assistant professor of philosophy.
---
Catholic University Professors Discuss Sheen's Economic Views
More than 100 people attended a video screening and discussion titled "Archbishop Fulton Sheen on Catholic Teaching and the Economy" on March 3, 2015, in Aquinas Hall Auditorium. Andrew Abela, dean of the School of Business and Economics, and Joseph Capizzi, associate professor in the School of Theology and Religious Studies, offered a 21st-century perspective on a talk Sheen gave in the early 1950s.
---
Sheen's Guest Appearance on "What's My Line?"